Summary
The KINAMU Events Module provides you Sugar installation with two modules to manage Events and Locations. With the Events Module you can keep track of all participant information in the Subpanels of the Event. With the Mailing function you can send mailings to selected Targets of your Event as well as keeping track of these mails with Sugar's Mail Module. The built in Dashlets provide you with an overview of the status and capacity of a current Event without requiring complex reports.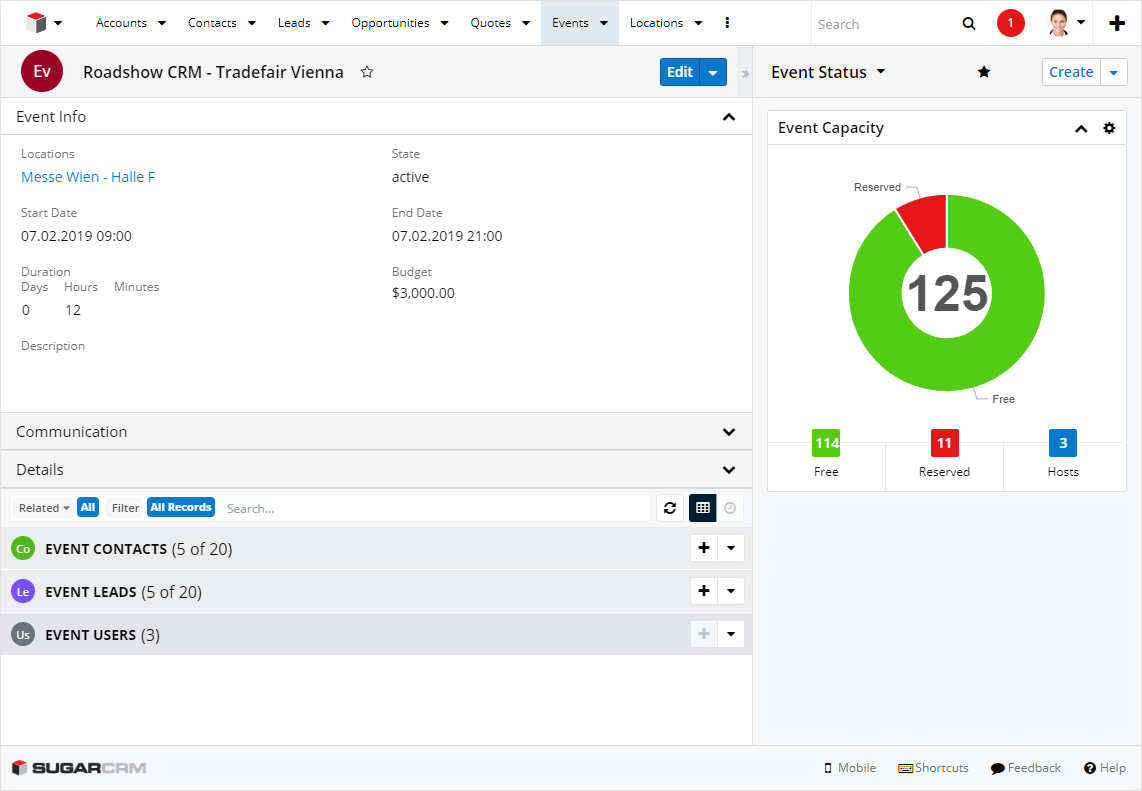 Added value, key benefits
create and plan your Events directly in sugar
manage participant information

Invite Status
Attendance
Host/Participant
Accesible from Subpanels
Detailed information

Sugar E-mail Templates

Save the date
Invite participants
Direct Links to Accept / Decline (directly stored in sugar through entry points)

Built in Massmailing functionality
Use cases
Event Management
Trainings and Workshops
Partner management
Lecture management
General Features
Sugar Studio compatibility for custom dropdowns
Optimized for Mobile Devices
Entire Application is native Sugar 7.x Standard
Sugar Cloud Save
Working with Events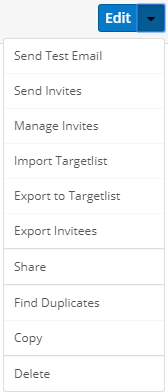 There are serveral actions located in the Record View menu.
With "Send Test Email" you can preview the E-Mail with the data of a select Contact and send that Preview to arbitrary recipients.
With "Send Invites" you can send e-mails to Event Contacts, Leads and Users with custom Tempaltes and Filters.
"Manage Invites" enables you to perform massupdates of Participant information.
With "Import Targetlist" you can use an existing Targetlist to relate all targets to the current Event.
"Export Targetlist" will create a Targetlist with user filtered Targets composed of Event Contacts, Leads and Users.
Participant Information

The Participant Information is composed of five additional columns in the Contacts, Leads and Users Subpanel. All of these Selection Lists can be customized with Sugar's Dropdown editor.
Invite Status (Not Invited, Invited)
Indicates if the person has been invited
Accept Status (No Response, Accepted, Declined)
Email Responded (Yes, No)
If the invite status was set by the participant
Role (Host, Paricipant)
Role of the person
Participated (Yes, No)
Designing the Emails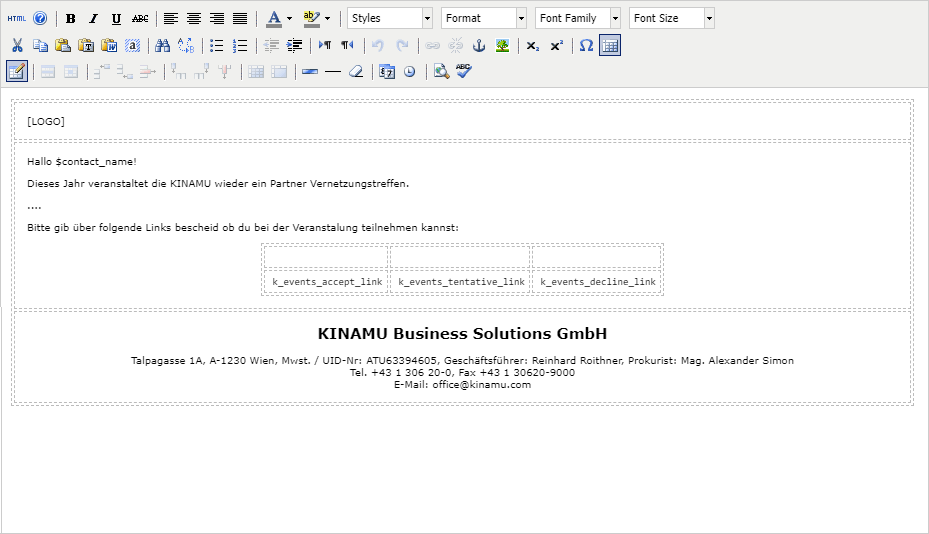 With the TinyMCE Editor you can make visually appealing templates for you Invites in a straightforward way. Even without knowledge in HTML or web design a user can quickly create professional emails. You can use all fields of the Contact, Leads or Users Module with simple place holders and also include data from the Event itself (like the description, start time or location). Here you are also able to include the response links, allowing invitees to accept or decline invites.
Download Product Information [PDF]
Please fill out the contact form below to get to the download of the product information.