Overview
Questionnaires and Surveys are fast and easy to implement. With the KINAMU Survey Module. You can create, manage and analyse Questionnaires with SugarCRM.
Multiple Question Types like Text, Dropdown, Multiselect, Checkboxes, TextArea, Radio Buttons, Date, Number or E-Mail are available. All Answers are validated according to their type, length and format to ensure Data quality in your CRM.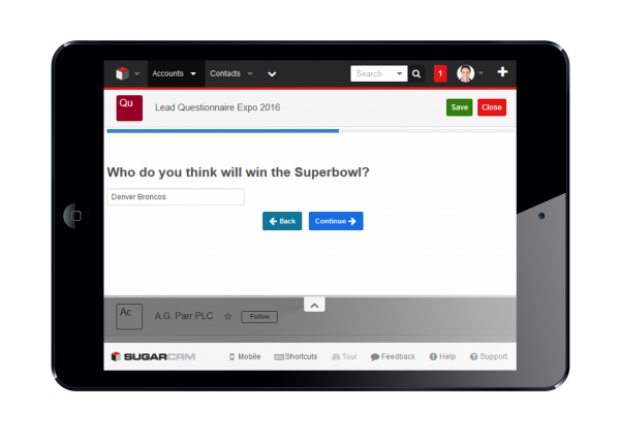 In your Sugar Installation Questionnaires can be created, edited or viewed by Users to create a predefined course of conversation for calls or checklists for processes. Questionnaires in Survey Mode additionally give the option for the Questionnaire to be downloaded as html File and embedded on a webpage to be answered by  non-company related People.
Questionnaires in Survey Mode are optimized for Mobile devices
With the subpanels of related modules, users can edit and view survey results in Sugar.
To add People to the Questionnaire simply use the Mass Link function of Sugar in the Questionnaires Module or use the related Subpanel to link a desired record with any Questionnaire. Later you can use the Campaigns Module to send direct links to Questionnaires for your employees to answer or review.
Add value, key benefits
storing questionnaires directly in sugar
using questionnaires to write to sugar records and vice versa
reporting capabilities with standard sugar reporter
online surveys logged directly into SugarCRM
Use cases
Lead qualification structured, professional, comparable, reportable results
Online questionnaires (Website –> Sugar) –Customer feedback, stored directly in Sugar
Internal questionnaires for internal process optimization and automation (Process author / initiating Workflows)  – Checklists for Project evaluations or Kick-Offs, customer readiness evaluations for cross selling
General Features
Sugar Studio compatibility for custom relations to the Questionnaire Module
Data Types: Text, Dropdown, Multiselect, Checkboxes, Textarea, Radio Buttons, Date, Number or E-Mail
Input Validation
Multiple Layout Options
Question Dependencies
Inserting custom HTML Code for Questions
Optimized for Mobile Devices
2 Layout types: Pagination and Detailed Layout
Using Sugar Fields to prefill Questionnaire
Using Questionnaire Answers to populate Sugar Fields
Custom Relationships between any Sugar 7 and BWC- Module
Report and Export (csv) answers
Use Sugar Reporter to analyze your surveys
Functionality
Questionnaires
Questionnaires are the heart of this module here you can access questions and you can choose various layout options and administrative Options like the timeframe in which the questionnaire can be answered and edited.
Below the edit Button you have the options to simulate your Questionnaires and export all answers as csv file. In the advanced Questionnaire Options you can link the Questionnaire to targets of a target list, export all Questionnaire targets to a target list or generate direct links to the Questionnaires as csv file. You can also generate those links using E-Mail templates in the Campaigns module.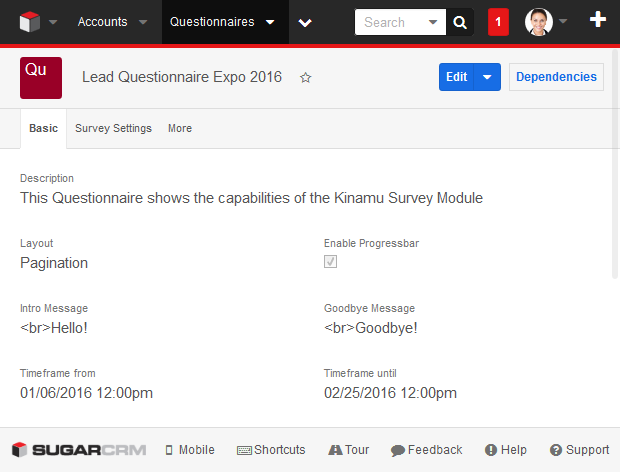 Below the recordview you will find the questions Subpanel, where you can view and define questions, or simply reuse old questions for your questionnaire.
The Questionnaires module can be linked to any other Sugar module (7 and bwc) with Studio with a many to many relation. These relations will result in a Subpanel under the related module, where you can select a questionnaire, edit or view the given answers.
All Views have been tested on multiple Browsers and are optimized for Mobile Devices. Also all input fields are validated according to their type to ensure data quality in your Sugar.
This Product uses no external Servers so your Data stays with you at all times.
The KINAMU Survey Module uses a license key for offline licensing.
Questions
With the Questions Module you can create Questions with one of following types:
Text, Dropdown, Multiselect, Radio, Checkbox, Textarea, Date, E-Mail and Number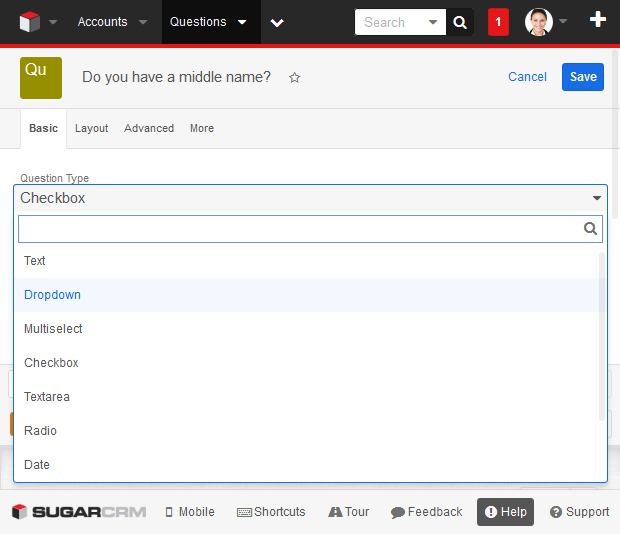 Types like Checkbox, Dropdown, Multiselect and Radio have their options defined directly in the record view: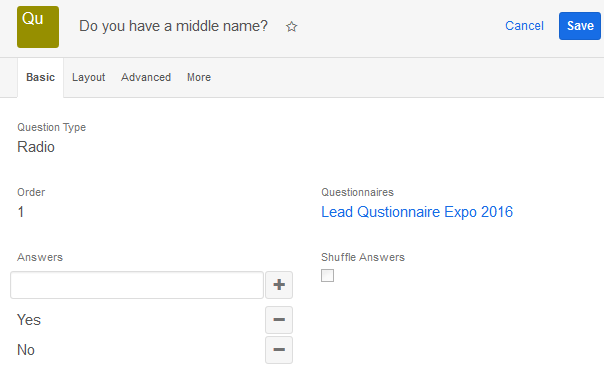 Within the Questions module most of the layout options are contained.
You can:
Define Location of the Questions in the Questionnaire
Define the Question as mandatory
Shuffle answers
Hide Question Text
Group Questions
Insert Html Code
Add Question Image
Insert your own css for the Question
Prefill the answer with given Sugar field
Define Sugar filed to save answers into
Dependencies
With the Dependencies Module you can define follow-up questions, change Options for following Questions or just end the Questionnaire all together. In doing so creating a course of conversation for users to follow.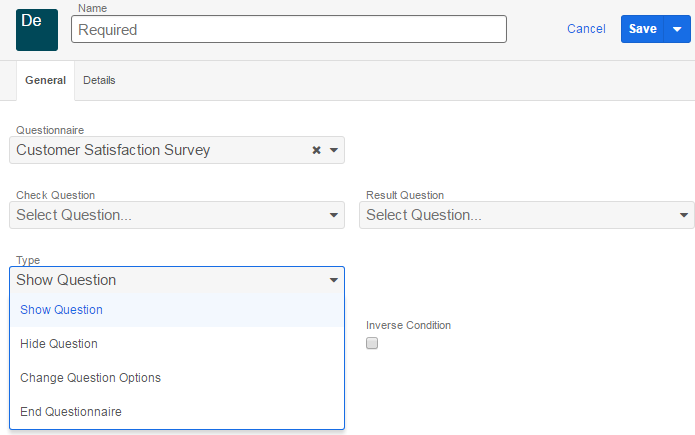 There are multiple conditions available for dependencies as well as inversion of these conditions: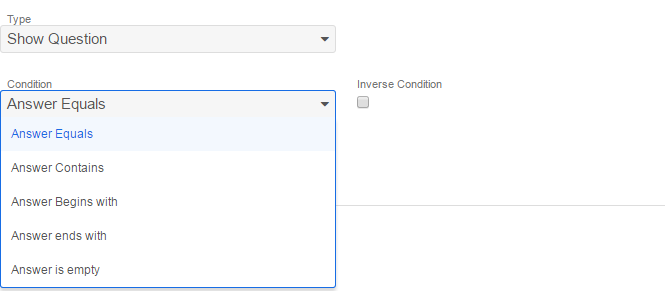 Internal Questionnaires
In the Questionnaires Subpanels beneath any Parent Record related to a Questionnaire you are provided with a list of all Questionnaires related to this parent record. In the "Date Answered" column you can see if and when this Questionnaire has been answered.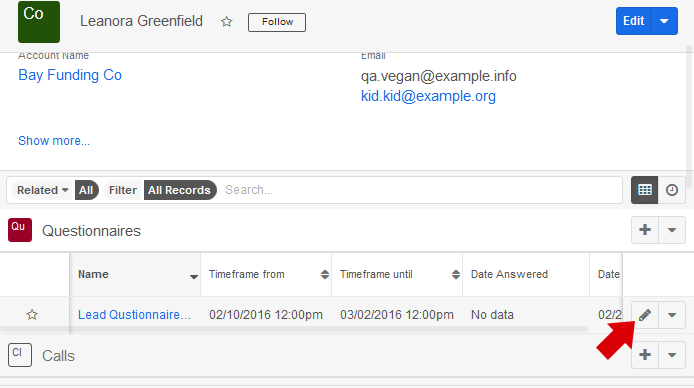 By clicking the highlighted edit Button a drawer opens, where you can answer the Questionnaire or you can view the Answers if the Questionnaire has been completed once.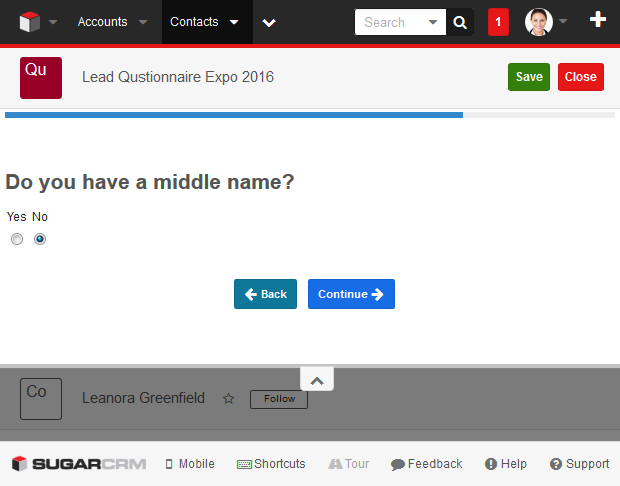 Download Product Information [PDF]
Please fill out the contact form below to get to the download of the product information.