With the KINAMU Telesales Cockpit all crucial information for your Telesales Campaigns is held together in one convienent UI. You see all Targets of your Campaign, as well as detailed information of that target and all related records.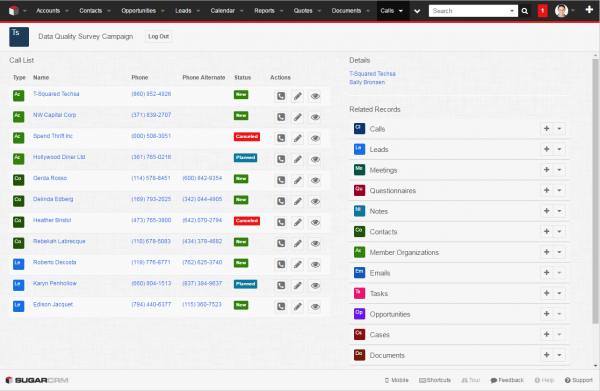 Each target and related record can be edited without leaving the current page. With the details Action Users can see defined Fields on the right side as well as all Subpanels and all options avaliable in them.
Each User has access to a personal config Area where they can select wich kind of records are contained in the calllist as well as various performance options.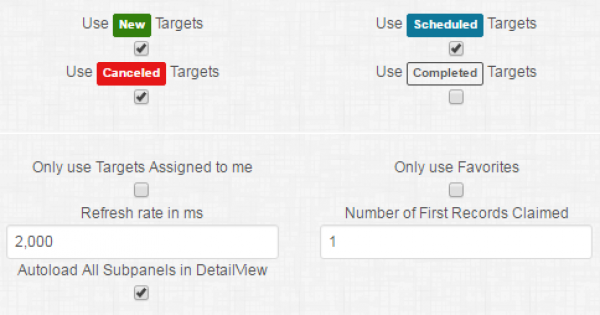 Each row has 2 possible phone number columns which can be clicked. This action can trigger applications like Skype or CTIs like Promptar

On the Screenshot below, from left to right, are following actions for each record in the calllist: Log Call, Edit Record and View Detail Information

Featues of the KINAMU Telesales Cockpit:  Sugar Studio compability for custom relations and Modules
  Customizable Fields for Detailview
  Editing, Linking and Unlinking Records without leaving the Ui
  Logging Calls without leaving the Ui
  4 Target States
  Report and Export (csv) Campaign Progress
  Uses default Sugar Targetlist Module
  User specific configurations
  Filtering Targets from Calllist
  Locking Targets to prevent conflicts
Download Product Information [PDF]
Please fill out the contact form below to get to the download of the product information.