Summary
Benefits:
Time efficient

Easy one-click list view layout for call agents
History available (last calls) for every record in the call list with one-click
Log calls with one-click
Add surveys and checklists to a call
Uses Sugar Campaigns and Target lists (Leads, Contacts, Prospects)
Process optimization

Create campaigns with sugar target lists, and use Sugar standard functionality
Assign multiple campaigns to different Agents
Log Targets for Call Agents to prevent conflicts and release them after logout
Multilevel reporting on Agent Base

All campaigns come with a status report where you can see the current progress
Different states for calls (New, Held, Canceled, Planned, Custom State)
Campaign State CSV Export
Status Report for each tele sales campaign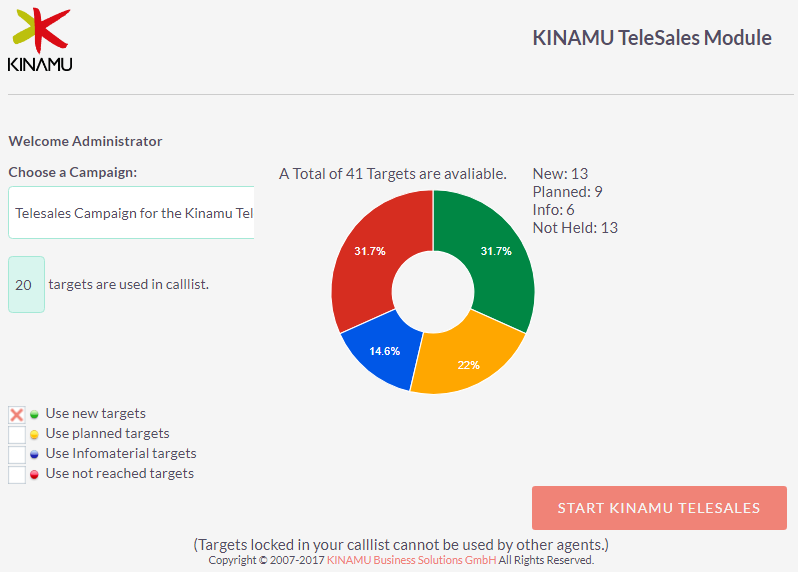 On the login screen, you can see the current state of the campaign in the donut chart. You can select from multiple campaigns assigned to a call agent. Once a campaign is selected, The user can choose how many targets from the target list in the campaign he wants to lock, and which targets he wants to use e.g.: new targets, planned targets, infomaterial targets, not reached targets.
One Click Layout
Once the campaign is select the user is in the one-click layout, to make the phone calls of the tele sales campaign. Here you can see the status of the targets. With one click on a target you can see if there is a Call History.

One Click Call Logging
By Clicking on the green telephone icon, the user can log the call, without leaving the one-click layout. The calls module is extended to include surveys and checklists to improve the calling process.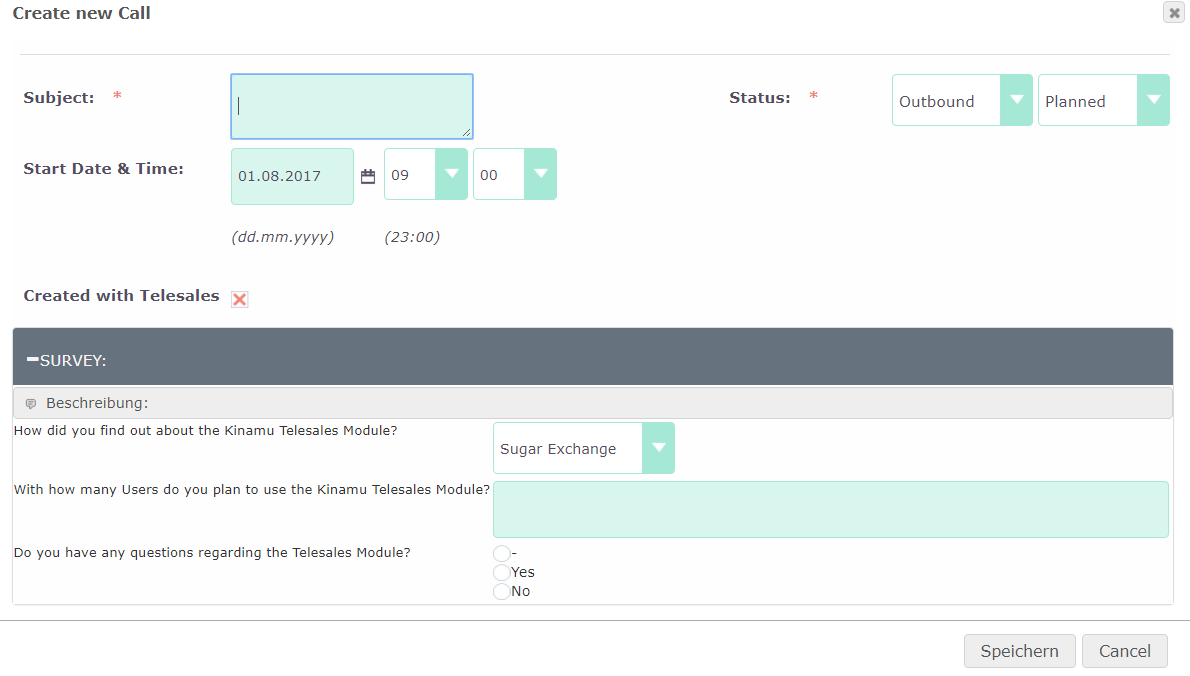 Campaigns and Targetlists
Campaigns can be easily assigned to agent profiles, by selecting the campaigns in the subpanel.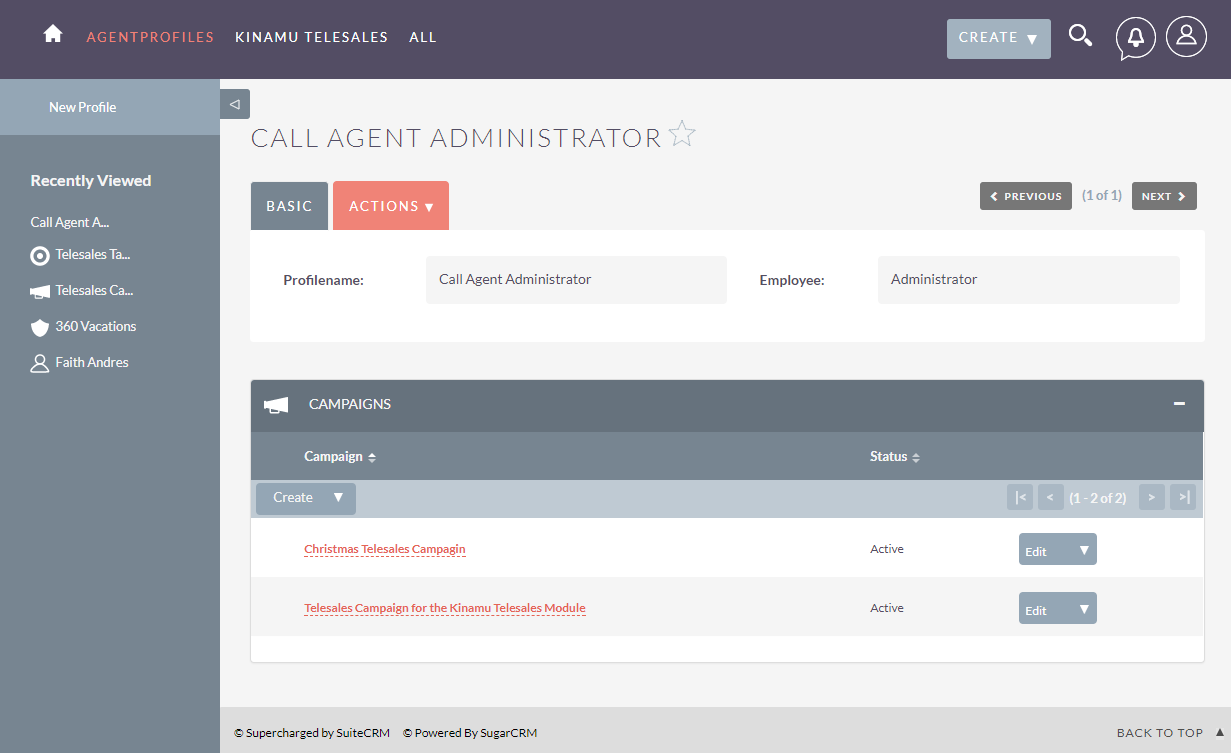 A Telesales campaign can be created through the sugar standard module campaigns.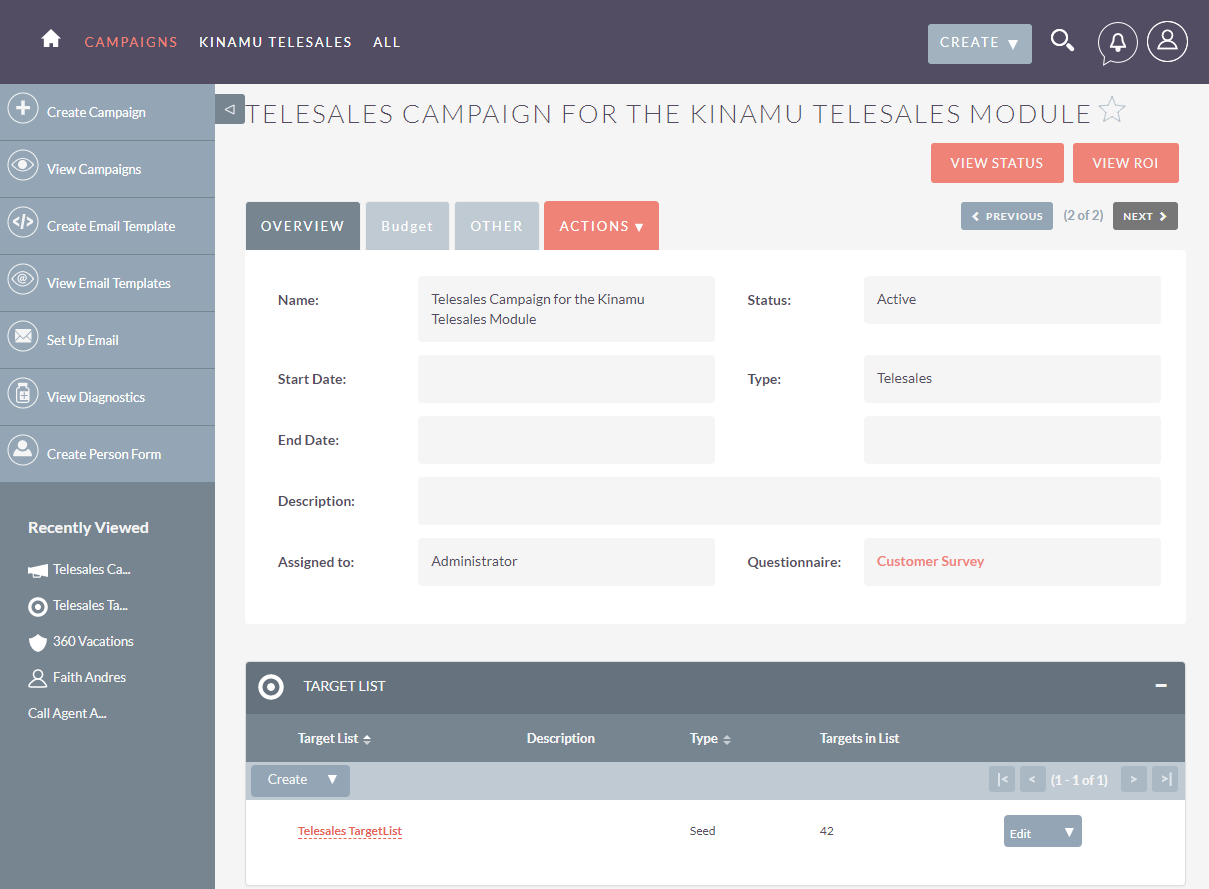 Telesales support multiple target lists and the modules Contacts, Leads and Prospects.

Features of KINAMU Telesales for SuiteCRM
Agents with agent profiles and different Campaigns
Dynamic Call Lists (with one view layout)
Target Locking for Agents, to avoid conflicts and duplicate calls
Number of locked Targets is configurable
One Click Call Logging
5 target states (New, Held, Canceled, Planned, Custom State)
Surveys attachable
Call History with Target is visible (last Calls)
Uses Sugar Campaigns and Target lists (Leads, Contacts, Prospects)
Graphical Campaign State Overview
Campaign State CSV Export
Optional Calendar
Download Product Information [PDF]
Please fill out the contact form below to get to the download of the product information.