SOAP Synchronisation between Sugar and SAP with the KINAMU SAP Connector.
Installable in Sugar 6.5, Sugar 7.x und SuiteCRM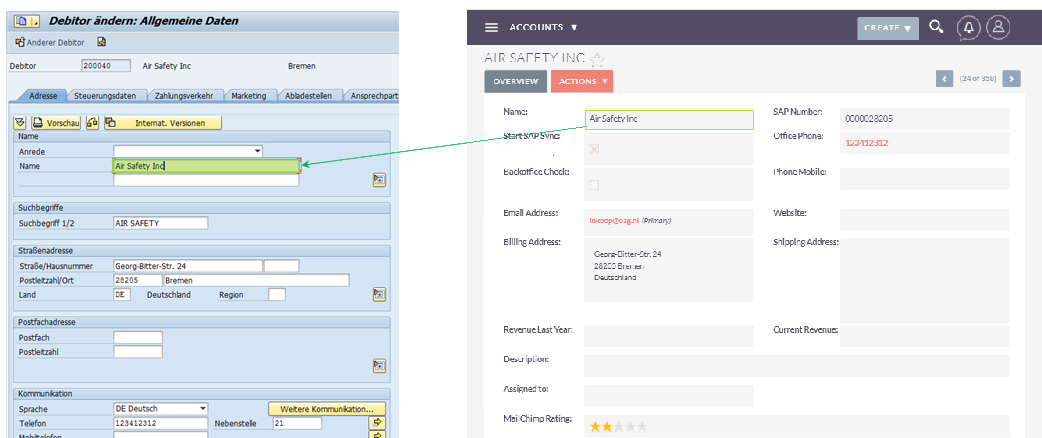 Advantages at a glance
Fast implemented
Bidirectional synchronization of:

Company data (debtors)
Contacts
Open Items
Sales data – SAP SIS data

SAP data directly in Sugar

Enrichment of CRM data
Evaluation of SAP data in Sugar
Automated workflows based on SAP data in CRM

Standard SAP to Sugar Connector

Built-in synchronization log for error analysis
Custom field mappings possible
Compatible with Sugar Module Builder
Installable in SuiteCRM and Sugar CE, PRO, ENT, ULT versions
Easily expandable with additional SAP modules
SOAP Interface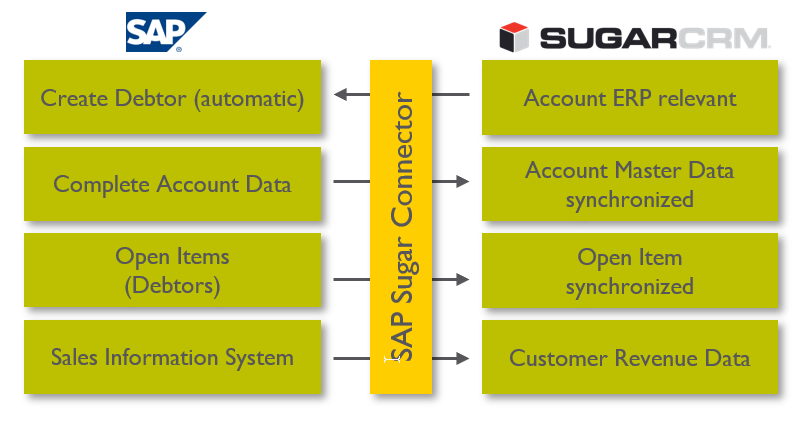 Functionality
The SAP Connector is an extension for SugarCRM and SAP which is developed and maintained by KINAMU to integrate both systems.
The SAP Connector enables bidirectional synchronization: changes in SAP ERP are automatically updated in SugarCRM or vice versa, changes in CRM can be updated in SAP. Employees in the company can thus access a complete and up-to-date database at any time, so that with the KINAMU SAP Connector you can quickly, easily and economically enter into effective customer relationship management with SugarCRM.
The SAP Connector consists of a base module and various extensions that can be installed as AddIn.
In addition to system parameters and master data, the SAP Connector also synchronizes all customer information that a sales representative needs in a customer call/meeting and provides information such as current sales or open items within the CRM system.
The extension of an ERP application like SAP with a CRM solution from SugarCRM brings significant advantages:
Flexibility
Optimization of business processes
Synergy effects in sales
360-degree customer view
SAP and Sugar: optimizing business processes
The digital representation of business processes is very diverse. For example, master data, open items and VIS data are managed in the SAP ERP application. On the other hand, leads, offers, marketing campaigns and sales opportunities are in the CRM system. In order to present the operational processes clearly, one needs an interface between both solutions. Only linking those allows the complete 360 ° view on the customer ("360-degree Customer View").
Bidirectional synchronization of customer data
The KINAMU SAP Connector synchronizes SAP ERP and Sugar CRM data in both directions, making it possible to have consistent and up-to-date data sets in all systems.
Use cases
You are already using SAP ERP and you want to introduce Sugar CRM in Sales and ensure that your sales employees have access to already existing relevant customer data with minimal effort.
Your employees should be able to get an overview of their customers' sales and thereby be better able to respond to customers' needs in sales.
Contacts AddIn
The Contacts AddIn automatically synchronizes the contact persons from SAP to Sugar
Sales AddIn
The Sales AddIn synchronizes a customer's monthly product sales data into CRM. This can be used to generate reports and workflows for sales.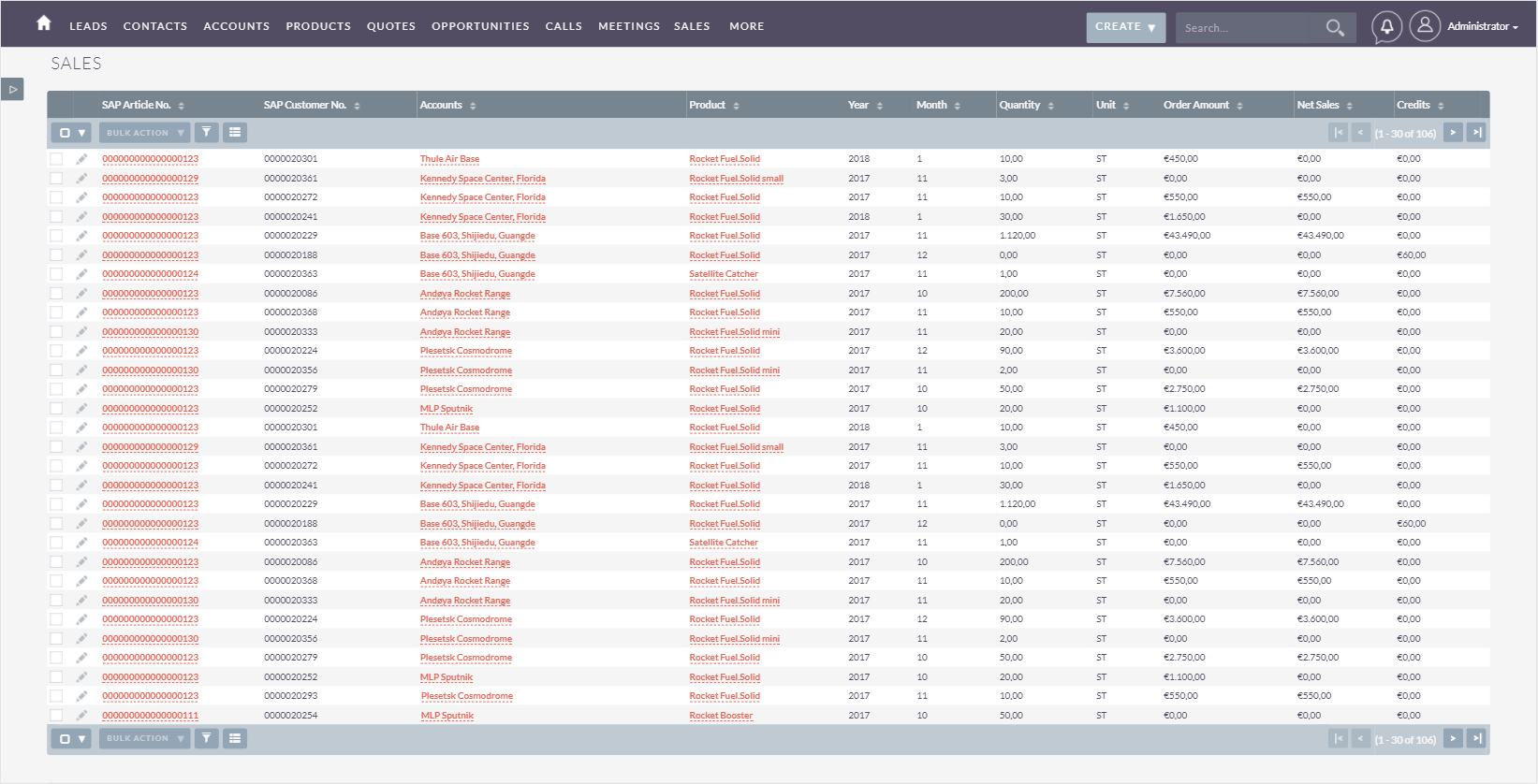 Open Item AddIn
With the Open Item AddIn, open items from the company can be synchronized to the key date in CRM.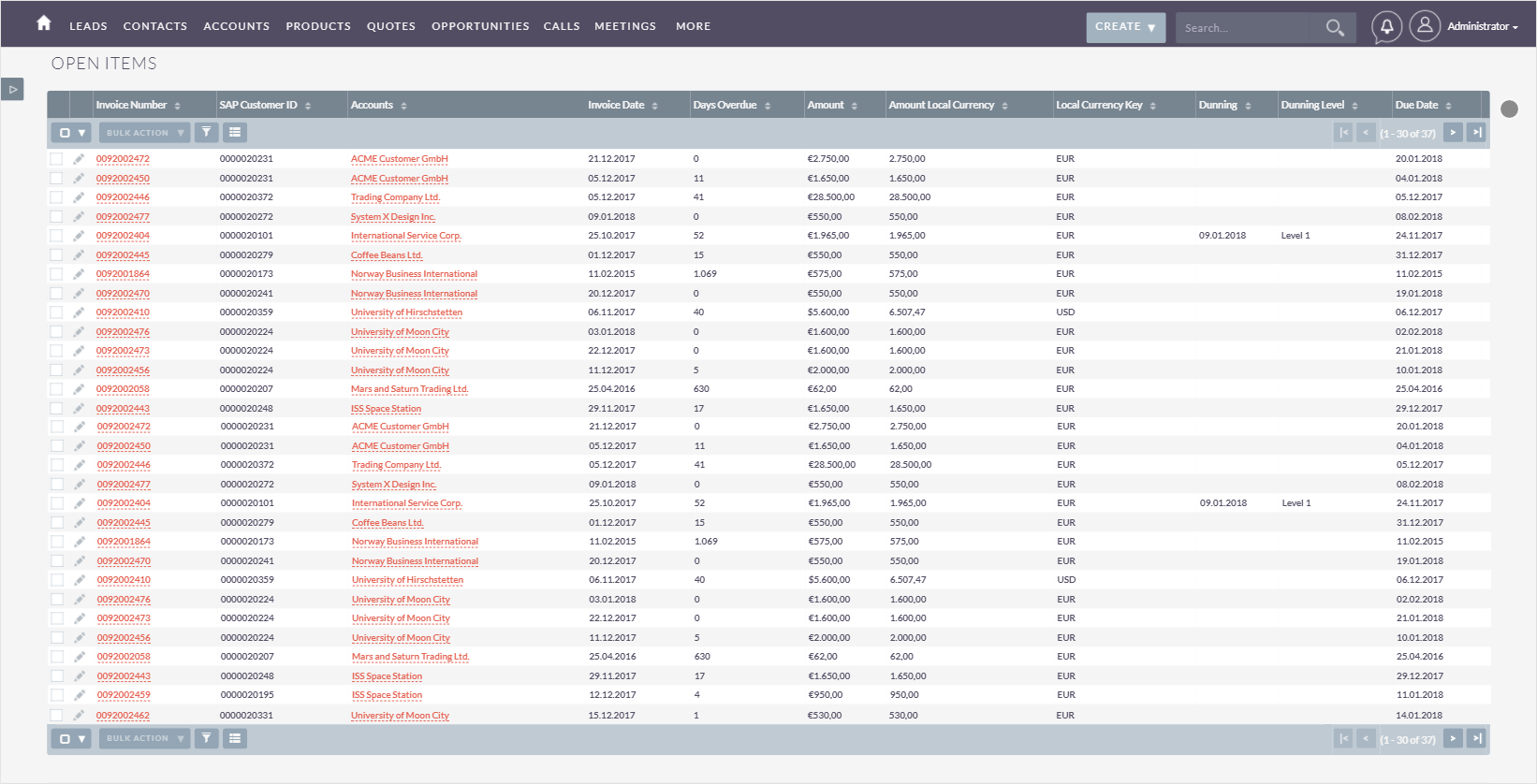 Subpanel View within Accounts
The open items and sales in the subpanel of an account.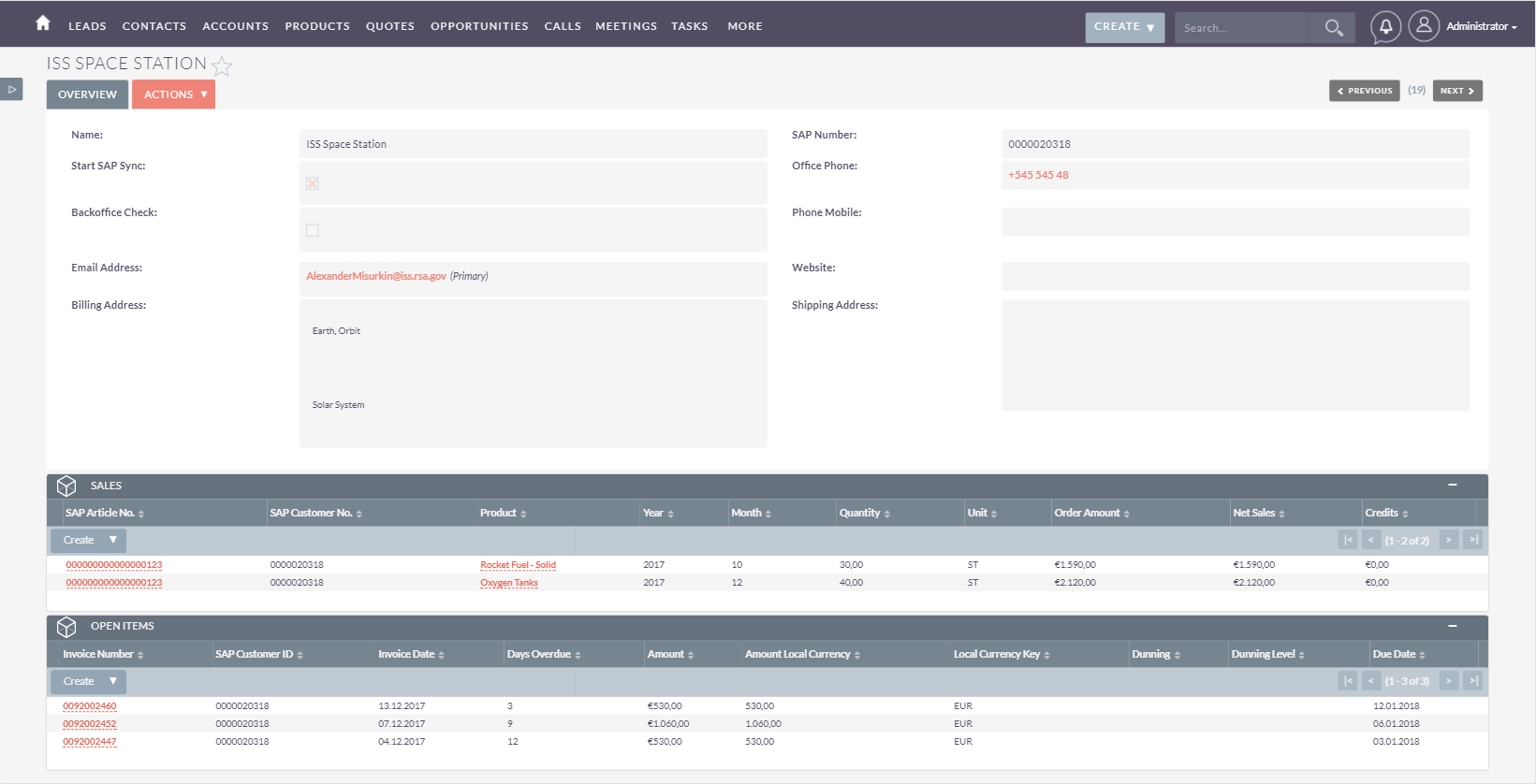 Download Product Information [PDF]
Please fill out the contact form below to get to the download of the product information.