Sugar Enterprise is an on-premise CRM solution that meets all your industry-specific needs!
The platform automates sales processes, supports personalized customization and thus improves your sales performance, productivity and also your connection to your customers.

Enterprise allows you to host Sugar products on your own server, giving you full access to all APIs without restrictions or hidden license costs.
Based on industry standard technologies (HTML5, REST, JavaScript and PHP), Enterprise can be individually adapted to your own wishes, processes and systems.
Sales Acceleration and Pipeline Management

Manage all your sales activities including leads, contacts, customers, reports, quotes and interactions.
Business Process Automation
Automate all your processes with Sugar BPM, including visual workflow design, time-based notifications and more.
Reporting and Dashboards
The reporting feature gives you insight into metrics, KPIs, customers, pipeline and other activities.
Customization on multiple levels
It is possible to customize Enterprise at every level with configurations, custom modules and fields, workflow automation, APIs, custom coding and database access

Upgrade Flexibility and Sugar Mobile
You have complete control over when and how you upgrade platforms.
Sugar Mobile gives you access to your CRM on any iOS and Android device through Sugar's free apps and mobile browser support
Campaign and Lead Management
You can capture leads, run personalized campaigns, and both track and analyze engagement.
Book a non-binding consultation with us and get Sugar Enterprise!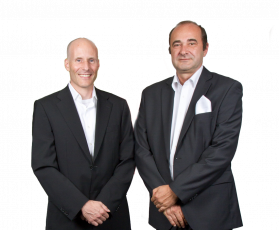 Michael Hubl & Alexander Simon
Managing Directors KINAMU