KINAMU SugarCRM Starterpack
SugarCRM offers an innovative platform with which your company can manage and automate various marketing and sales processes, at the same time you can cultivate your customer relationships transparently and professionally.
With the various SugarCRM products you can increase your efficiency and your turnover as well as reduce your workload.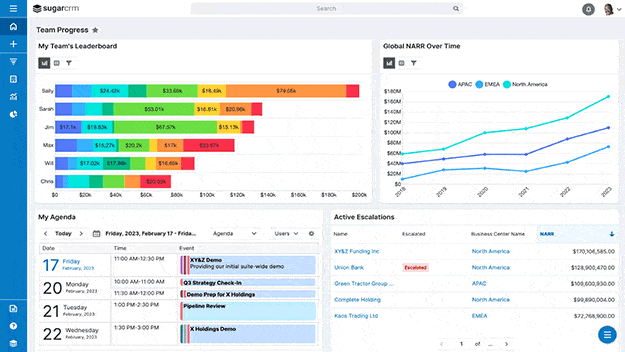 With the KINAMU SugarCRM starter pack you get a fully operational CRM solution (including analysis, implementation and 'going-live' support) for a fixed price of €19,900 with which you can handle your business processes after a period of 8 weeks. The KINAMU starter pack is available in conjunction with the SugarCRM Editions Sell and Serve (Sugar Cloud) and Sugar Enterprise (On-Premise).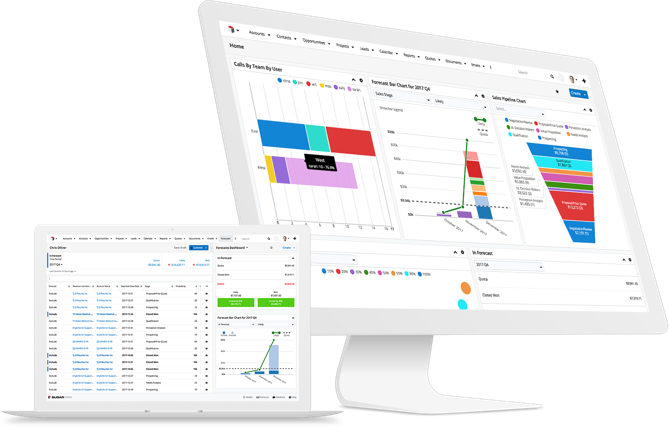 Request a free SugarCRM trial
Regardless of whether the topic of CRM is new to you or you are about to switch, Sugar is an innovative platform that helps your business to keep track of and save time. In our 30-day trial you will find out why PCMag has named Sugar among the CRM offerings for Customer Experience.
a new CRM Customer
Initial Investment/System Selection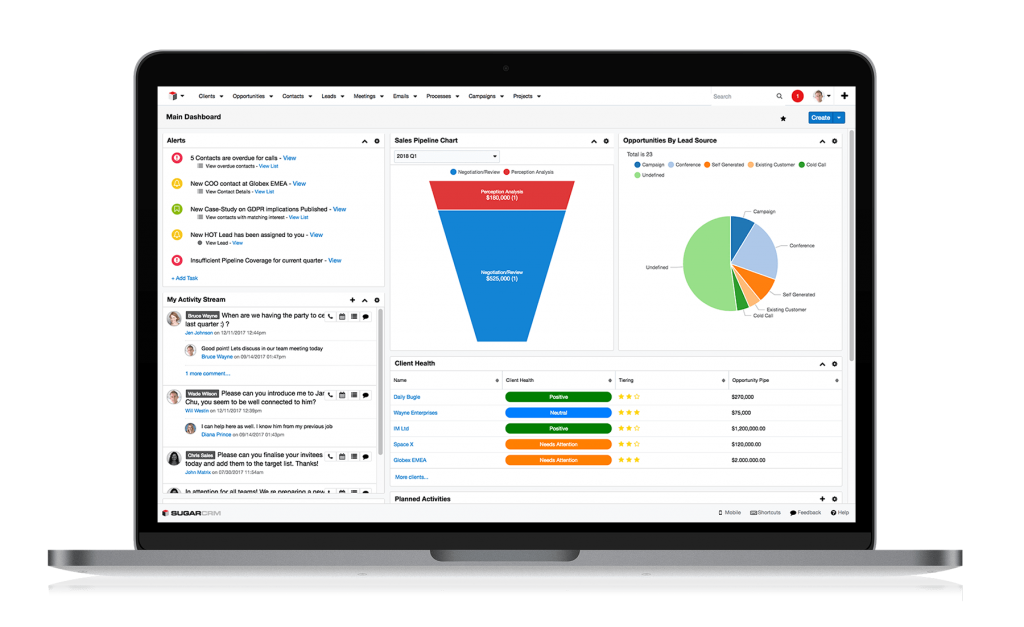 I'm a new CRM Customer and want to make an initial investment in a CRM or I'm currently in the selection process of a new CRM.
You need help to get an overview?
You want to specify your requirements for a CRM system?
You need help creating a shortlist?
You need a TCO calculation?
KINAMU supports new CRM Customers with the System Selection:
Provide checklists for the introduction of a CRM
Creation of a requirement catalog
TCO calculation
requirements check
Providing a list of providers with strengths and weaknesses
Assistance in setting up a bidding process
an exisiting CRM Customer
Migration/CRM Change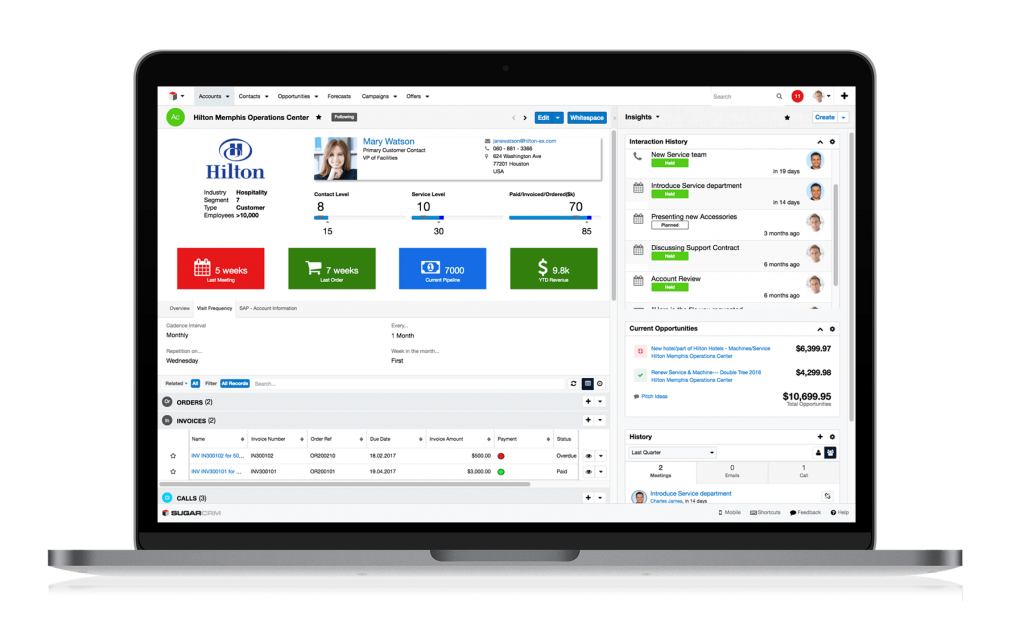 I am an existing customer and would like to change my CRM system.
You already have a CRM in use?
Are you dissatisfied with your current CRM?
You want to identify unused potentials?
You want to automate your processes?
KINAMU supports existing CRM Customers with an offer for the preparation of a migration / change of the current CRM system and offers the following services:
CRM analysis (processes, modules, usability)
CRM analysis (software check)
Identify unused potentials
Automation of processes
Cost Overview Migration
Presentation of the benefits of SugarCRM
Specifications for a bidding process
KINAMU Industries Solutions - Save time and money on implementation
Our CRM appliance offers you a solution that meets your industry-specific requirements, we know that the different industries have different and very specific requirements.
We rely on our proven methods and processes to make your project successful. In doing so, we support the implementation of your CRM project during all project phases, from the definition of the requirements to the acceptance testing and supervision of the system. Our long-term customers appreciate us because of our good support beyond the project introduction, we are always available for our customers with words and deeds.
Your added value:
Immediately deployable out-of-the-box industry solutions
A single platform for all relevant customer information
Shorter reaction times
Increase sales efficiency by simply creating reports
Illustration of all current sales opportunities
Illustration of sector specific features (visit planning & reports, campaign management, offer-  order- and service- management, overview of all machines / systems installed at the customer)
Acting instead of reacting: It is important to quickly recognize market developments, act accordingly and always bear the costs in mind. Sales must therefore be able to concentrate on its core processes. Our CRM solution offers you the necessary, uniform knowledge platform in the form of a central customer database.
Every sales employee – whether in-house or field-based – has a complete overview of all customer activities, from inquiries, to orders, to service and complaint management. The system helps you to map these complex process landscapes. The data is stored in the CRM modules required for your industry: projects, products, offers, contracts, machines, services, service and service intervals, and much more.
Clear and predictable prices with no hidden fees or forced upgrades. All editions include modules for marketing, sales and support, activity management (calls, meetings, tasks, emails, notes, documents).

Sugar Enterprise
Cheapest Solution for larger companies
The industry's most flexible option for highly-tailored,
on-premise CX applications
Starting at € 85
Enterprise + at € 120
Per user per month, 3 user minimum, billed annually,
Hosting:  OnSite or in Partner Cloud
Sugar Enterprise includes: 
Sales

: Sales automation and forecasting

Service

: Customer Service + Case Management

Marketing

: Lead Management + Campaigns
Offers at the product level and forecasting
Sophisticated workflows
Role-based views and approvals
100 simultaneous self-service portal users
12×5 (hours / days) email and phone support

Sugar Serve
Give customers the support they need, quickly and confidently.
Starting at € 80
Per user per month, 3 user minimum, billed annually
Includes:
Hosted in Sugar Cloud
Service Functionalities
2 sandbox instances
60 GB storage
Phone support
4 Support-authorized contacts

Sugar Sell
Create more meaningful experiences and build lasting relationships.
Essentials starting at € 49 for 3 – 5 users
Advanced starting at € 85

Premier starting at € 135
Per user per month, 3 user minimum, billed annually
Includes:
Hosted in Sugar Cloud
Sales Functionalities
2 sandbox instances
60 GB storage
Phone support
4 Support-authorized contacts

Sugar Market
Capture the attention of your most promising prospects.
Starting at € 1.000
per month for 10K contacts, billed annually
Inlcudes:
Hosted in Sugar Cloud
Unlimited users
Unlimited emails and landing pages
Phone support
4 Support-authorized contacts
Why Sugar?
Sugar UX
Gartner Magic Quadrant
Award-Winning CRM
Opensource
About SugarCRM
Why Sugar?
Designed for you
Sugar provides a simple CRM interface focused on features that matter and nothing more.
Be part of an exceptional customer experience
We love our customers, and they love us. SugarCRM receives the highest Net Promoter Score across all major CRM vendors.
No hidden fees
Not all companies offer clear pricing terms. With our low and predictable pricing, you can build a simple CRM system that supports and grows your big ideas.
Easy to deploy
Turn it on and go. Easily integrate with your existing IT fabric. Quickly customize to automate your unique business processes.
Flexible CRM solutions
With our simple CRM, we provide businesses of all shapes and sizes with the flexibility they need to build great, personal customer relationships while also encouraging strategic growth.
It's that simple.
Get started today and find out more about what SugarCRM is, what we do and how we help make customer relationships extraordinary.
Sugar UX
Gartner Magic Quadrant
Award-Winning CRM
Opensource
About SugarCRM
SugarCRM enables businesses to create extraordinary customer relationships with the most innovative, flexible and affordable CRM solution on the market. Unlike traditional CRM solutions that focus primarily on management reporting, Sugar empowers the individual, coordinating the actions of customer-facing employees and equipping them with the right information at the right time to transform the customer experience. And Sugar pricing is simple and affordable, so you can deploy it to all your customer facing employees, and know what it's going to cost. Recognized by leading industry analysts as a CRM visionary and innovator, Sugar is used by more than 1.5 million individuals in over 120 countries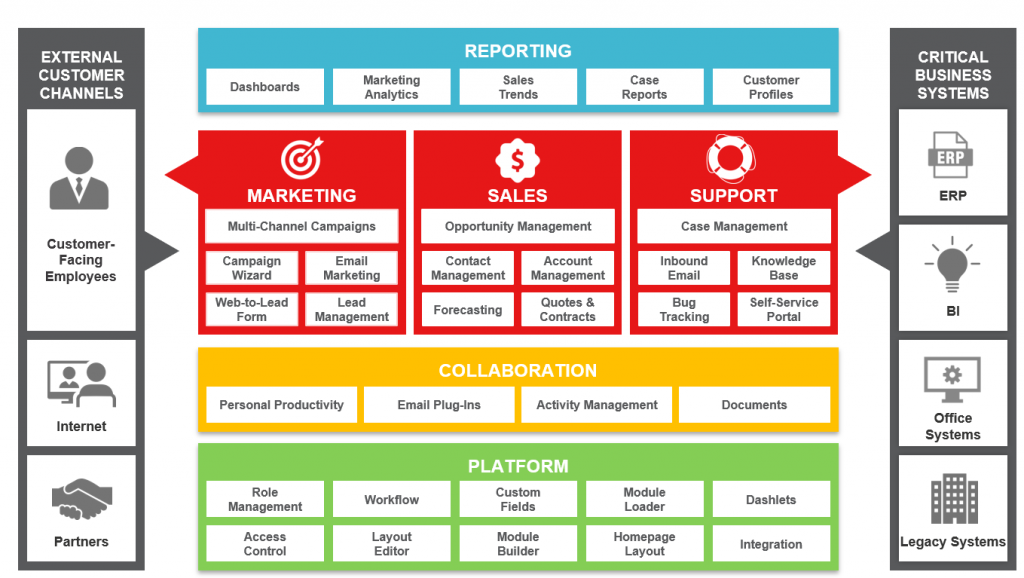 The KINAMU Solutions are bases on an open source software, the SugarCRM. These applications provide your company with a 360° view of your customer and consistent documentation of all information. You manage company data, addresses, contacts and E-mail addresses. With the help of SugarCRM you record all interactions with the customer: Lead management, Phone calls, E-mails, offerings and orders. The recorded information is then used for reports and analysis supporting the future decision-making.
Marketing
Sugar closes the gap between Marketing and Sales. You can, for example, create digital newsletters and campaigns via E-mails. After the campaign is closed you are able to measure its success. Using Tracking URLs, the system delivers information which customer did actually read the E-mail. Furthermore you can transfer leads directly into the system making them available for the sales team immediately.
Sales
The driving force of your company, the Sales department, manages Products, Catalogues and Offers using SugarCRM. Special conditions, benefits and closed contracts are displayed through customizable reports. The display of reports gives a comprehensive overview to the sales team and decreases the individual time needed to prepare for a customer meeting. The sales team can access the information anytime, also using mobile devices.
Service & Support
The deal does not end with signings a contract nowadays. It is important to help your customer in a timely fashion through Service & Support. With SugarCRM you are able to define the maximum time in which a customer complaint should be handled as well as monitoring if these times are complied. Some complaints are reoccurring and this is where the Knowledge Base comes in handy. The Knowledge Base collects all the data, such as Themes, Questions and aswers shortening the response time to reoccurring complaints.
Microsoft Outlook Integration
SugarCRM can be connected with software developed by other companies. For example you can synchronize your contact, meeting and tasks with Microsoft Outlook easily. Furthermore you can transfer your E-mail into SugarCRM from Outlook.
SugarCRM can be fully customized to meet the needs of your company using configuration , customizing and development. This is where KINAMU comes in. We have a number of self-developed solutions to offer. Our products come from experience and practical use and are focused on the needs of our business partners.
PlugIns:
Connectors: