SugarCRM enables businesses to create extraordinary customer relationships with the most innovative, flexible and affordable CRM solution on the market. Unlike traditional CRM solutions that focus primarily on management reporting, Sugar empowers the individual, coordinating the actions of customer-facing employees and equipping them with the right information at the right time to transform the customer experience. And Sugar pricing is simple and affordable, so you can deploy it to all your customer facing employees, and know what it's going to cost. Recognized by leading industry analysts as a CRM visionary and innovator, Sugar is used by more than 1.5 million individuals in over 120 countries.
Sugar and SugarCRM
The KINAMU Solutions are bases on an open source software, the SugarCRM. These applications provide your company with a 360° view of your customer and consistent documentation of all information. You manage company data, addresses, contacts and E-mail addresses. With the help of SugarCRM you record all interactions with the customer: Lead management, Phone calls, E-mails, offerings and orders. The recorded information is then used for reports and analysis supporting the future decision-making.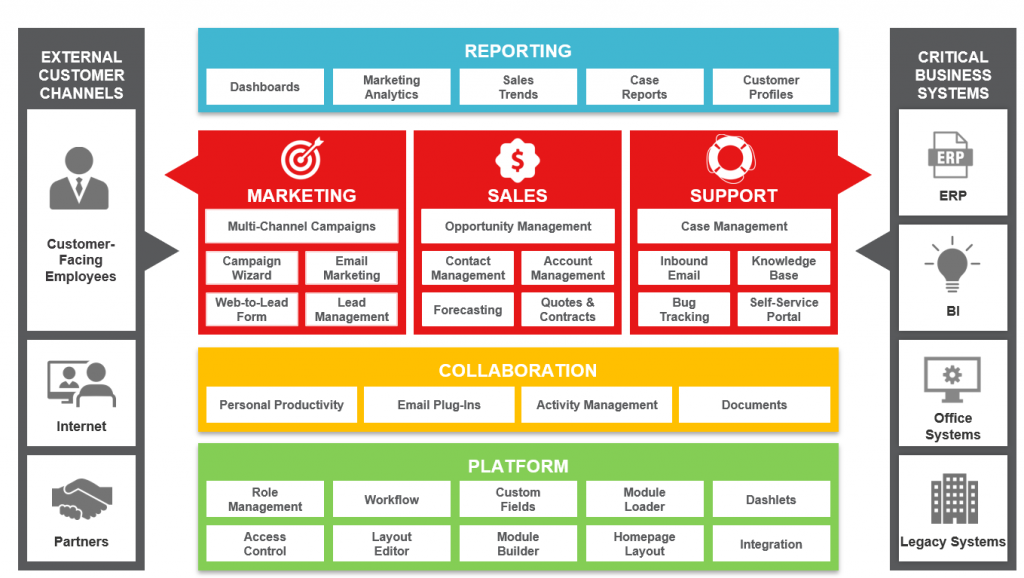 Marketing
Sugar closes the gap between Marketing and Sales. You can, for example, create digital newsletters and campaigns via E-mails. After the campaign is closed you are able to measure its success. Using Tracking URLs, the system delivers information which customer did actually read the E-mail. Furthermore you can transfer leads directly into the system making them available for the sales team immediately.
Sales
The driving force of your company, the Sales department, manages Products, Catalogues and Offers using SugarCRM. Special conditions, benefits and closed contracts are displayed through customizable reports. The display of reports gives a comprehensive overview to the sales team and decreases the individual time needed to prepare for a customer meeting. The sales team can access the information anytime, also using mobile devices.
Service & Support
The deal does not end with signings a contract nowadays. It is important to help your customer in a timely fashion through Service & Support. With SugarCRM you are able to define the maximum time in which a customer complaint should be handled as well as monitoring if these times are complied. Some complaints are reoccurring and this is where the Knowledge Base comes in handy. The Knowledge Base collects all the data, such as Themes, Questions and aswers shortening the response time to reoccurring complaints.
Mircosoft Outlook Integration
SugarCRM can be connected with software developed by other companies. For example you can synchronize your contact, meeting and tasks with Microsoft Outlook easily. Furthermore you can transfer your E-mail into SugarCRM from Outlook.
KINAMU extensions
SugarCRM can be fully customized to meet the needs of your company using configuration, customizing and development. This is where KINAMU comes in. We have a number of our self-developed solutions to offer. Our products come from experience and practical use and are focused on the needs of our business partners.
KINAMU Reporter
The Reporting module provides you with an analytical view of your customer. Customer analysis, Campaign management or Trend analysis enable you to see trends in customer behavior and make fact-based decisions.
KINAMU SAP Connector
The in-house developed SAP Connector module connects your CRM system with your ERP system easily while keeping the costs low. You can, for example, transfer Sales figures and turnover from your SAP into the SugarCRM making them immediately accessible to your sales team.
KINAMU TeleSales / Marketing Modul 2.0
An effortless handling of Campaigns is delivered by the TeleSales 2.0/TeleMarketing module. This solution optimizes the acquisition activities of your sales team during communication with customers.
KINAMU Workflow
This module coordinates, automates and manages work processes within your company. With the Workflow module flexible business processes are defined in a simple way and complex processes are supported. The possible application ranges from simple approving process to sales and service processes.